After the few months Mike and I have had, especially after losing James, Mike's lovely parents Andrea and Tony booked us a three-course meal at the Ivy in Brighton, as an early birthday present.
When I heard that we were going to The Ivy, I was a little nervous. For years I'd heard about the London Ivy restaurant, frequented by celebrities, dignitaries and entrepreneurs… not disabled bloggers from Essex!
From the moment we arrived, there was nothing to worry about at all! We were helped in with the aid of portable ramps and two extra strong members of staff to help Mike push me up the steep entrance and as soon as we made our way inside we were in awe.
The Ivy is situated in the famous Brighton lanes, in a Grade II listed former post office and it is exquisitely and sophisticatedly decorated, each corner hiding something wonderful to admire.
We started our dinner with cocktails, an Angels Share for me, a take on a Mojito made with Havana Rum and Mike had his first Salted Caramel Espresso Martini and a Strawberries & Cream Soda – all were made freshly in front of us as we were seated opposite the beautiful rose, gold and mirrored bar. There was a relaxed atmosphere, but a sense of opulence.
For starters, Mike opted for Smoked Salmon and Crab, served with dill cream and dark rye bread, not something Mike would normally go for, but he thoroughly enjoyed it. I went for Duck Liver Parfait which was served with brioche bread, it was divine and the staff offered plenty of bread top-ups for us both.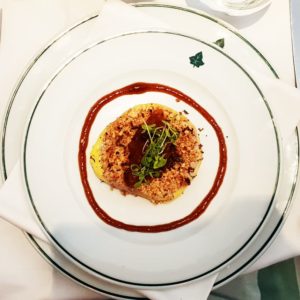 For our mains, Mike decided on the slow roasted lamb shoulder, which was expertly cooked to perfection, falling apart and served with creamed potatoes and a rosemary sauce. I had the crab linguine with a chilli, roasted garlic and lemon sauce – thankfully they put the chilli on the side so you can choose how spicy you'd like it – I'm a complete wimp, so this was perfect.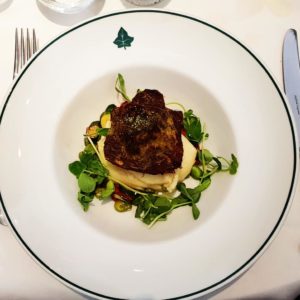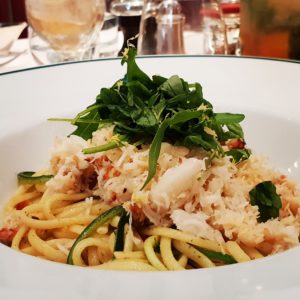 Most people would have been stuffed after two incredible courses but we couldn't resist a dessert. I saw a crème brûlée wander past to another table when we arrived, so I had picked my dessert before I'd even been served my starter, but Mike wanted the Strawberry Ice Cream Sundae – a gorgeous end to a superb meal.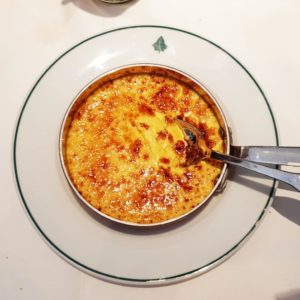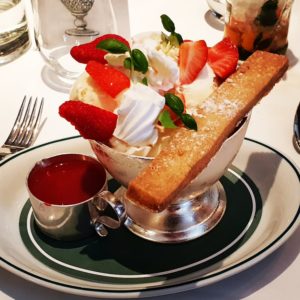 The Brighton Ivy is a real treat, to the eyes and taste buds, in between devouring courses, we chatted, admired the art and watched the cocktails being made. We were attentively looked after, made to feel welcome and encouraged to take our time and relax – we did just that… our meal lasted 3 hours!
Mike and I would highly recommend The Ivy, it's beautiful, the service is exemplary and the food is delicious. They serve breakfast, afternoon tea, a vegetarian and vegan menu plus they have an extensive wine list – it's a perfect venue for drinks, a meal or simply a few snacks and a cocktail – we will return.
L x