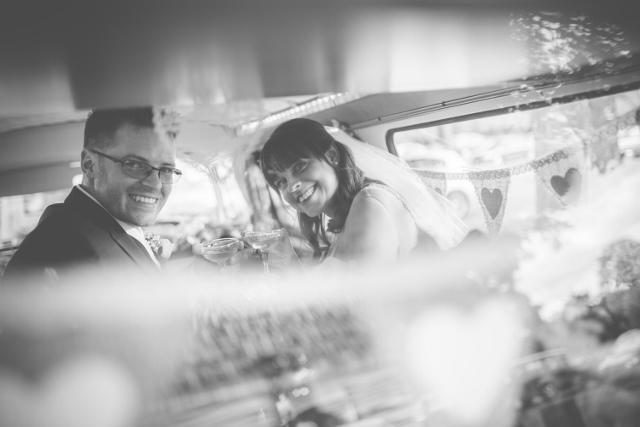 The first year first marriage, we were told, is the hardest. We hadn't quite anticipated, just how hard it would be.
When you book a wedding, everyone has an opinion, from the flowers to the guest list, the ceremony to the colour scheme. But lots of people like to tell you how hard marriage is, how much hard work you have to put into the relationship or how it changes everything between you.
Personally, we, after 12 years together, found that, no, it didn't change anything between us. Don't get me wrong, we were happy, but a piece of paper didn't change that. We wouldn't have got married unless we were 100% certain of us as a team, a couple, of a lifetime together. 

The wedding came, it was fabulous, and it went. Mike had just resigned from the oil industry, so we had a business to start up and we ploughed our energies into that and started on making our family. 

7 weeks later, James was conceived, and what a joy it was. Despite the all day sickness, the lack of my pain meds, the many nights awake with restless legs and CRPS pain – it was worth it, but our wedding rings and our certificate had yet to change anything. 

Then we lost James. That pain was indescribable, for us both, the heartbreak could have broken us, but it didn't. It changed us profoundly, forever leaving a mark of sadness in our lives. But it only assured us of our strong and committed relationship, something a ceremony and a three-tiered cake didn't do. 

As we celebrate our 1st Wedding Anniversary on Sunday (12th), we will wear our wedding rings, I'll continue to be proud to be Mrs Garrick and feel incredibly lucky that Mike picked me to be his wife. But in the end, what I'm trying to say is, if your engaged or newlywed, it's not about the wedding day, it's not about how big your engagement ring is or the piece of paper, it's your relationship that matters. Yes, this year has been the worst year of our relationship but not because we suddenly changed our titles. So stop worrying about the small things and enjoy your partner whether you're engaged, married or none of the above. 

L x